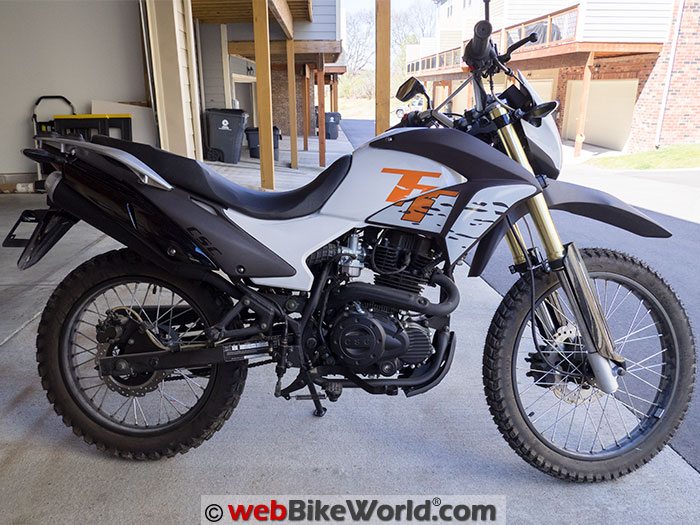 The CSC TT250 is the little brother to the more popular CSC RX-3 Adventure.
Actually, the TT250 might offer better bang for the buck.
The TT250 is for riders looking for an inexpensive dual sport that can handle commuting and light off-road duties
You can save more than $1,500.00 compared to the RX-3 Adventure by choosing the TT250 instead.
The air-cooled 229.5 cc engine makes 16.1 horsepower at 7,000 RPM, which seems low but feels reasonable enough on the road.
The nature of the TT250 design makes it easy to service, even for novice wrenches.
CSC backs up the bike with a one year, unlimited mileage warranty and they provide not only a complete service manual, but nineteen (at present) online tutorials on how to service the TT250.
For the price, you'd be hard-pressed to find even a used ~250cc dual-sport bike made by one of the major brands in decent condition.
But, will the CSC TT250 turn out to be reliable over time? That remains to be seen…
Introduction
Small-ish dual-sport bikes are very popular of late. I discovered this recently while searching for a light dual-sport bike for Carmen.
She's had several motorcycles over the years and one of her favorites was a 1989 Honda NX250, an excellent example of an early dual-sport bike.
The NX 250 was light and had a relatively low 32" seat height. The water-cooled 249cc engine put out about 25 HP and combined with the six-speed transmission, that meant top speeds in excess of 70 MPH (just).
We are both still sad we let that little bike go…
Recently, Carmen had grown tired of pushing her BMW R1100R around the garage and our recent move to another part of town had her wanting a small and light dual-sport bike again.
So after selling the BMW (which didn't take long), we discovered that 250 cc to 400 cc enduros have become quite dear on the used market.
We wanted to stay in the $2,500.00 (USD) or less range, but the available used bike were both scarce and pricey, so we started looking at other options.
That led us to the range of ~250cc Chinese-made motorcycles that are available to order.
There are actually many Chinese-sourced bikes available online and in small shops, ranging from inexpensive to just plain cheap. The build quality also can run the gamut from awful to decent as well.
We had nearly settled on one particular model from an online dealer that had a reasonable reputation, when we spotted a used motorcycle on Craigslist.
A few days later we brought home a nearly-new 2016 CSC TT250 motorcycle with 100 miles on the clock.
w
BW
Slide Show: CSC TT250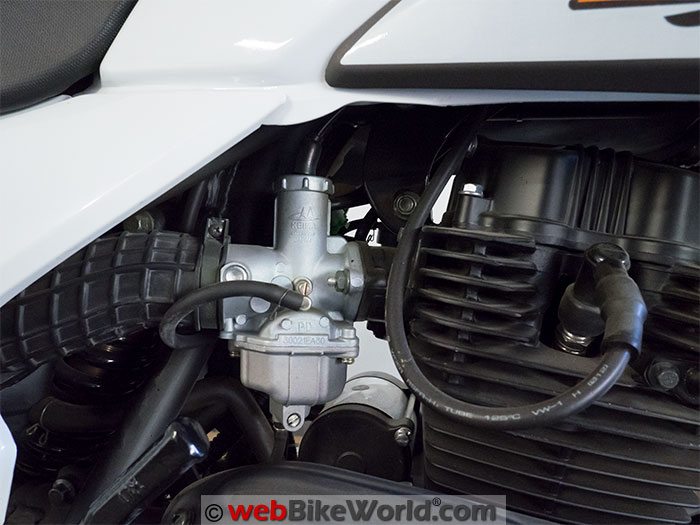 Who Is CSC?
CSC is the California Scooter Company, based in Azusa, California. In 2014, they made a big splash with their Zongshen-based RX-3 Cyclone Adventure motorcycle.
For $3,495.00 (at the time it was initially offered), you could get a 250cc adventure bike that included hard luggage.
It created a lot of awareness of CSC and the reviews of the RX-3 were favorable, especially considering the price.
Fast-forward to 2017 and the RX-3 (now at $3,895.00) isn't the only motorcycle that CSC offers. They currently have a pair of 250cc street bikes in the lineup, in the form of the RC3 sport bike and the RZ3 "naked" street bike.
What we have in house now is a 2016 CSC TT250, which is dual-sport machine with a list price of $2,195.00 (for the 2017 model), sold direct from CSC.
The price sounds reasonable for a brand new 250cc enduro-styled bike, so let's have look and see what we're getting for our money.
CSC TT250 Specifications
Length: 83 inches. Width: 32 inches. Height: 44 inches
Seat Height: 34 inches. Wheelbase: 55 inches.
Dry Weight: 309 lbs.
Engine: 229.5 cc air-cooled single cylinder carbureted 4 stroke, electric start.
Bore: 67 mm, 65 mm stroke.
16.1 HP @ 7000 RPM and 13.5 ft. lbs. @ 5500 RPM.
Ground Clearance: 11.5 Inches
Fuel Tank Capacity: 2.9 Gallons
Transmission: 5 Speed
Tires: Front: 3.00 x 21 Knobby DOT Approved. Rear: 4.60 x 18 DOT Approved.
Maximum Load: 639 lbs.
Top Speed: 60 MPH
Fuel Consumption: ~65 MPG. Noise Level: ~80 dB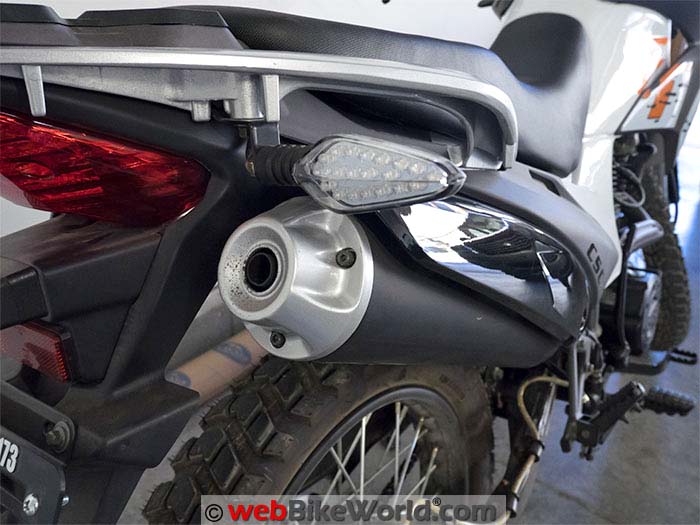 The CSC TT250
The CSC TT250 shown here is a 2016 model that was purchased in September 2016. Carmen and I bought this from the original owner.
We paid $1,850.00 in March of 2017 and the bike had just 105 miles on the clock.
As such, we feel it still represents very closely what buying a new TT250 from CSC is like.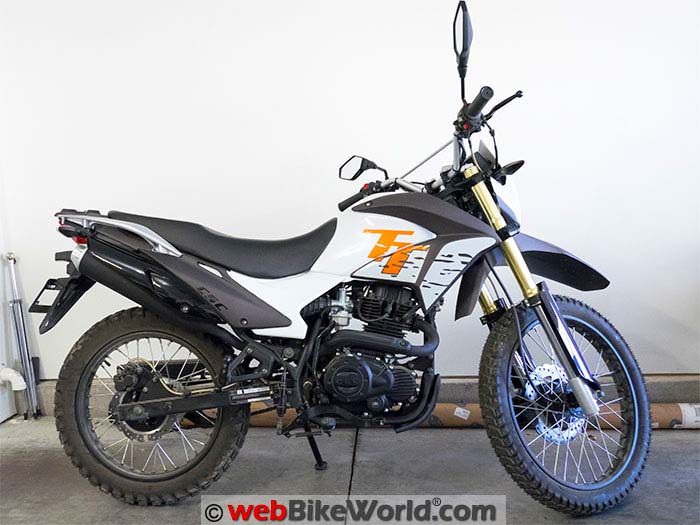 CSC TT250: The Basics
Size
The first thing that we noticed upon seeing the TT250 in person was its size. It is taller than I would have thought and the 34" (86 cm) seat height is comparable to the 400 cc and larger dual-sport bikes from other brands.
For 2017, the TT250 is available in two colors: black and an orange color scheme. But in 2016, one of the options was white with orange decals, and that is what we have here.
The overall look is pleasant and I like the higher visibility of the white and orange coloring.
Engine
The heart of the TT250 is an air-cooled 229.5 cc single-cylinder engine with — get this — both electric and kick starting.
Fueling is handled by way of a carburetor (how quaint!) that draws its "go juice" from a 2.9 gallon fuel tank.
The 16.1 hp at 7,000 RPM engine has 13.5 ft. lbs. of torque. It's mated to a five-speed gearbox and with stock gearing, the TT250 tops out around 60 mph.
That's not bad, considering that the TT250 weighs in at 309 lbs. dry. With a rider and fuel, 60 mph is pretty respectable from the small engine.
Brakes
To bring all that massive horsepower to a stop, the TT250 uses a 265 mm single disc brake in the front, gripped by a dual-piston caliper.
The rear is also a disc brake, at a smaller 220 mm size. It employs the same twin piston caliper as used in the front.
The brake line routing on the front caliper sticks out to the side in a weird way, considering the off-road aspirations of the bike's design.
It could be that using identical calipers for front and rear was a decision based on budget considerations.
Wheels
Those brakes are bolted to a 21" wheel up front and an 18" hoop in the rear. The large front wheel will delight off-roaders, as it makes for easier climbing over obstacles.
Shocks
They may be in for a shock (pun intended), however, with the relatively short suspension travel of 6.2 inches (157 mm) in the front and 6.5 inches (165 mm) in the rear.
The suspension is actually adjustable beyond just preload and it includes clickers for adjustment of rebound damping front and rear. How well these settings work is something we'll look at shortly.
Lights
A 35 Watt H4 halogen bulb rests in the headlight nacelle, which has a modern naked street bike look. It's not bad looking, but I keep thinking I would like to just stick a round 7" headlight in its place.
Something I was surprised to see was that LED turn signals are fitted from the factory, or at least by CSC once they receive it. They are very bright and clearly visible in the full sun of mid-day.
Instruments
The TT 250 comes with a simple instrument panel with an analog speedometer and a complement of lights for Neutral, Hi-Beam and the turn signals. Despite lacking a tachometer, there is a fuel gauge included, which is nice.
Dash Panel
The keyed ignition block has an odd feature that allows you to cover the keyhole. A small switch can close the cover but you have to use a special key surface that is molded into the key fob to open the cover.
I'm not sure exactly what this is supposed to provide.
But it does not appear water-tight where it would prevent rain from getting into the lock, although the cover doesn't seem solid enough to keep out a determined thief.
So with the basics out of the way, let's take a closer look at some of the details.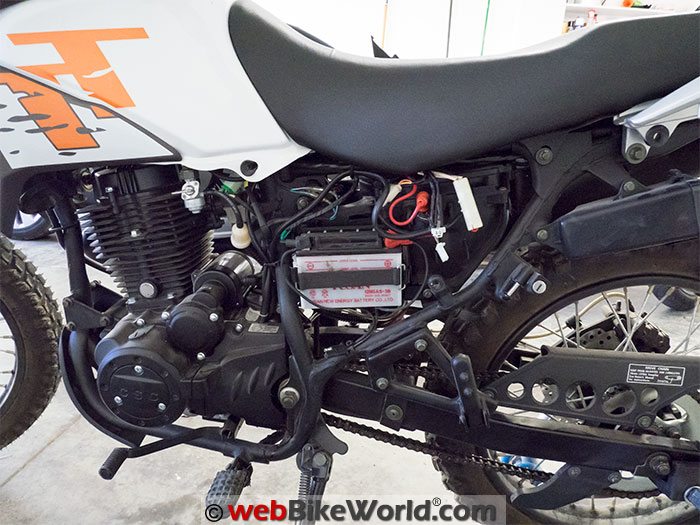 CSC TT250 with the left side battery cover removed.
Engine
The 229.5 cc engine in the TT250 is, as I understand it, likely modeled after Honda's 150 cc air-cooled single. I can't say for certain that this is the case but that is what online research has turned up from the "interwebs".
Whether true or not, the single starts very easily using the electric starter or via the kick starter.
There is a two-stage choke lever that is accessed from the left side under the seat directly on the carb.
In mild weather about 30 seconds of choke is all that is needed to get the bike running smoothly. When it is colder it may need to stay on for a couple of minutes.
Either way, it is not fussy at all about starting but the reach to the find the choke lever while sitting on the seat can take a little practice.
The small engine is pretty smooth for a single and the carburetor fuels well enough. I understand that others have changed the exhaust and replaced the carb with a larger unit to squeeze a little more power out of their rides.
While that is certainly easy to do and the parts are inexpensive enough, we are fine with the bike as it is, plus I wanted to review the "out of the box" experience with an unmolested unit.
With an estimated 65 MPG fuel consumption, that 2.9 gallons should be enough to reach around 180 miles from a full tank if ridden conservatively.
In our use, we've still seen greater than 50 MPG and that was with giving it plenty of throttle.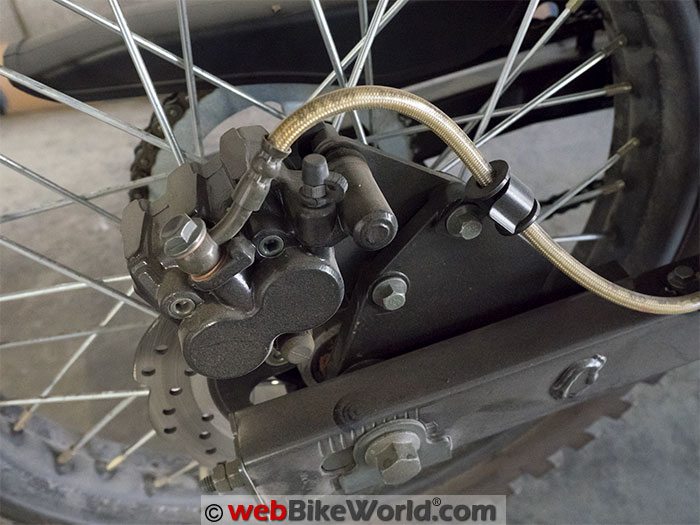 Transmission
The five-speed transmission, like the engine, is completely adequate.
I would agree the CSC's rating that about 60 MPH is the top speed, at least with my weight in the saddle.
CSC sells a 49 tooth rear sprocket for anyone looking to raise the top speed a bit.
That's one tooth less than stock, so it's not going to be a huge difference but at the same time, much higher gearing might make taking off from a stop a problem for the small engine.
At this early stage in the powertrain's life, the transmission is not what I would call smooth; it can be notchy and sometimes neutral can play hide-and-seek with the shift lever.
At the same time, the bike currently has less than 300 miles on the clock, so the transmission may become smoother with time and more miles.
The gear ratios seem well spaced and should work well enough for secondary street riding and some gravel roads or light dirt riding.
If you're looking to spend more time off road, CSC offers a 15 tooth front sprocket, which should give the TT250 a bit more oomph for rougher terrain.
The chain that comes on the TT250 is a 428-sized 130 link unit. 428 is not a size I'd heard of before but replacements are available from EK, DID, and RK, so it shouldn't be a problem to track one down if needed.
CSC has the EK chains listed on their parts page, so it is easy to get them there as well.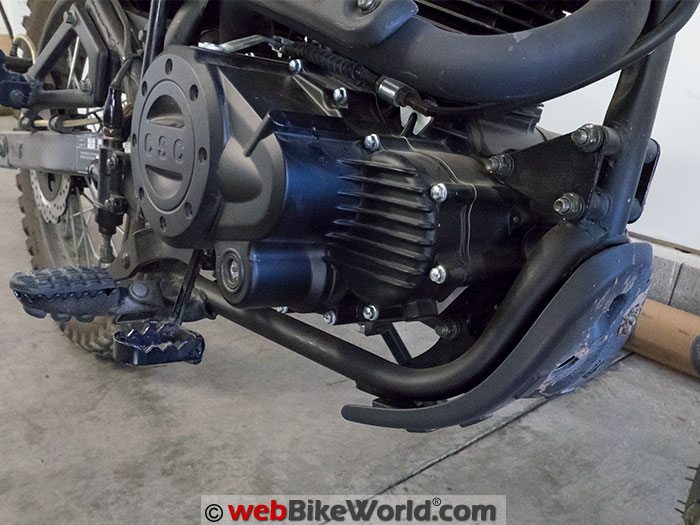 Suspension
At first glance, the gold upside-down forks make it look like you have some premium suspenders in the front. Actually, I can say that they are completely adequate for street riding and some light gravel roads.
Both fork caps have a preload adjuster and a rebound damping adjuster. Preload is not unusual but the extra clicker for rebound is nice in theory.
In practice, I found the range of adjustment for the rebound is very narrow, despite the many turns the adjuster can take from one end of its range to another.
There is a spot in the range where it goes from very little to very high rebound damping and the factory setting was on the higher side.
Lowering this damping level made the ride a lot more plush and controllable, as the front end was "packing" going over groups of small bumps.
Out back, a single rear shock handles suspension duties and it is set up in a basic "frame direct to swingarm" configuration. No progressive links down here…
Like the front, the rear shock includes preload and a rebound damping adjustment.
The preload is handled via a pair of locking rings around the threaded body of the shock; this type of adjustment allows an infinite amount of setting from highest to lowest.
The range available for preload goes a bit too far on this bike in that the last inch or so of least preload is enough to have the spring dangling if the swingarm reaches its limit of travel.
The two rings that are used to adjust the preload are apparently made from a very soft aluminum.
I tried a variety of punches and nut drivers that would fit into the space and catch on the rings and nearly all would dig in and gouge the metal as I tapped it around the shock.
Bottom line: use caution when making these adjustments, especially while the spring tension is loading these parts.
It is best to get the rear wheel off the ground so that the least amount of load is on the shock while turning the adjusters.
Combine this with the very narrow access point for those adjuster rings and preload is not something you will want to have to mess with very much.
The monoshock also has a rebound adjuster, which seems to offer a little more variable adjustment than the fork legs.
I was able to tune it suitably for street riding based on my weight and then again for Carmen's.
The travel for the rear shock is slightly better than the front with 6.5" available, but this can get used up quickly if more preload is dialed in, which for a heavier rider like me (190 lbs.) would be necessary to keep it from bottoming out on some bumpier sections of road.
All in all, the suspension is adequate for the intended rider (Carmen). She doesn't plan on any serious off-roading but does like the idea she can travel down unpaved areas and explore while still being able to ride on the street to get there.
When I'm riding the TT250 as it is set up for her, I can tell that the rear needs more preload for my weight.
The time needed to reset the preload, however, means I'd rather exercise some caution when riding rather than deal with the shock preload adjuster.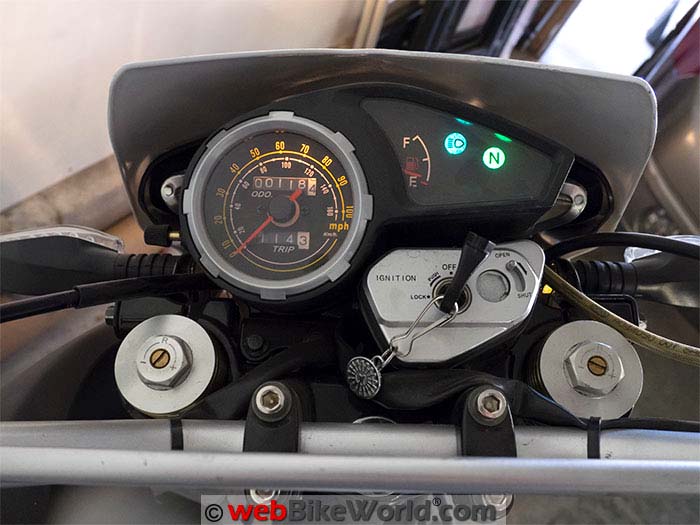 Ergonomics
The feel in the seat is pretty comfortable, which isn't surprising given the dual sport layout. The rider sits very upright, with the foot pegs being almost straight below the rider's hips.
A dirt bike style handlebar makes adjusting the reach for the bars easy and of course this can be swapped out for any 7/8″ handlebar you might want (assuming the lines and cables still reach).
From the seat, there's a clear view of the speedometer and indicator lights, although the sticker used for the speedometer face is a bit cheesy-looking, but it is functional.
The fact the fuel gauge is present AND seems to be pretty accurate is nice.
Lighting of the speedometer face is a bit lacking at night, however.
I recently took a ride on the TT250 at night to see how the headlight worked and it appeared a bulb was burned out in the lower left portion of the speedometer dial, as you can see in one of the photos.
Checking in the back there indicates that there doesn't appear to be a provision for a light bulb in that area anyway, so this is apparently just by design.
So how did that headlight do at night? Scary!
After a 20 minute ride in the nearby, unlit secondary roads near our home, I was glad to be back to street lights. The output from the headlight looks adequate but it is dismal.
I say this even after I replaced the 35 Watt H4 headlamp with a 55 Watt bulb. This tells me that the reflector design of the headlight might be at fault and not so much the brightness of the bulb itself.
Back to overall ergonomics: the seat itself is broad and has very thick foam. I can say for sure it was very thick, as I cut about 2.5 inches out of it to effectively lower the seat height for Carmen.
This brought it much closer to getting her feet flat on the ground.
To get her even closer to the ground, I let out some preload from the rear and raised the fork tubes in the triple clamps to where the seat height is about 31 inches without a rider.
Now when she sits on the she can easily get her feet planted while wearing her boots.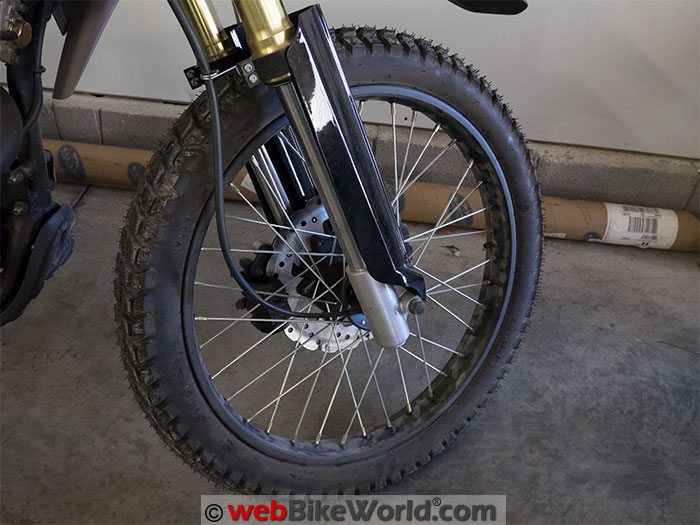 Accessories
The TT250 is very "electrical accessory friendly" and the bike includes a 300 Watt alternator, which is huge for this type of motorcycle.
The alternator should be sufficient to handle running the taillight and headlight with Wattage to spare.
CSC has tried to make it easy to access that extra juice by providing auxiliary connectors under the left side body panel; two separate two-pin connectors are located there.
On the right-hand control pod is a switch with three positions: Off, A1, and A2.
A1 and A2 switch on the power to the connectors under the body panel. This is a neat idea and it removes the need for an additional switch for heated grips or if you ride at night, some much-needed auxiliary lighting.
At the rear is a flat space between the substantial grab handles where you can place a rear luggage rack.
CSC offers a metal rear rack plate that provides multiple tie-down points as well as the ability to add their own CSC top case. It would appear easy enough to adapt other top case brand adapters to fit this rack as well.
CSC offers other accessories as well, such as hand guards ($49.95), a 49 tooth sprocket ($29.95) and an aluminum skid or bash, plate ($129.95).
The TT 250 comes with a small plastic bash plate but if you have aspirations of climbing over logs and such, I would recommend upgrading to the metal plate.
A lower seat kit is also offered through CSC and it comes from Seat Concepts. This is a kit rather than a complete seat and it includes new foam and a new seat cover.
This is a nice offering, but it does require that you remove the foam from your existing seat pan and staple the new cover in place.
Not being afraid to trim seat foam myself, I took an electric carving knife to our seat to reduce the height as I noted in the Ergonomics section above.
The result is certainly not pretty, but it works well enough and the price of entry was just time to trim and staple.
I think I would still spring for the CSC lower seat kit in the future just so it looks nicer and for the $159.00 price, it's not unreasonable.
I realize I'm calling out prices on these accessories which I don't do normally, but I want to point out how reasonable the prices are.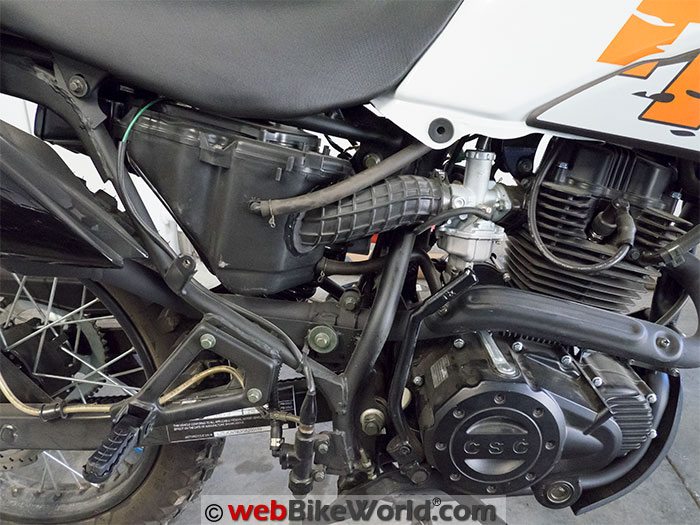 CSC TT250 right side with airbox side cover removed.
Parts Availability
Parts are something that I feel many potential buyers of Chinese have concerns about. Will they be able to get parts and where do they have to go to get them?
This is one of the best reasons I see for purchasing from CSC.
CSC has complete parts lists on their website for the TT250 and their other motorcycle models. The parts pages are laid out clearly and they make it pretty easy to find what you're looking for.
In addition to the parts, CSC has created a series of tutorials demonstrating how to perform various maintenance tasks.
There are currently 19 of these available on their site right now that cover subjects from oil changes to valve adjustments.
Each tutorial includes lots of photos and clear step-by-step instructions.
And guess what? This is in addition to a complete service manual that comes with the bike.
Servicing the TT250 is relatively easy and let's face it, a 250 cc air-cooled single is going to be about as easy as it gets for service.
Caution: Soft Fasteners!
It should be pointed out that care needs to be taken when you are torquing the fasteners, as well as being very careful to not cross-thread said fasteners.
I already managed to begin to cross thread one of the screws that hold the seat.
It's too easy to cross-thread these fasteners and the mounting points, so if you don't have a tap and die set or access to one, it might be worth considering.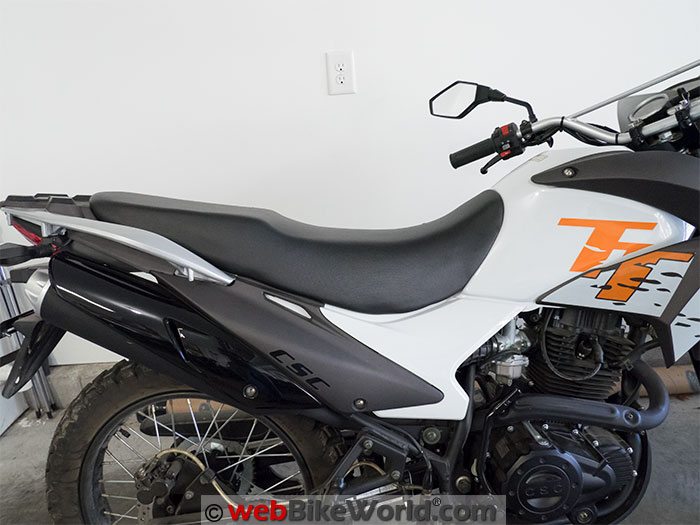 CSC TT250 seat.
Riding Impressions
I always like riding small displacement bikes and I'm a firm believer in the adage that "riding a slow bike fast is more fun than riding a fast bike slow".
On the street, the TT250 is well behaved and it tracks nice and straight.
I was concerned that the big 21-inch wheel at the front would want to flop in slower turns, but this never happened.
The stock tires (unknown brand) are of a mild knobby type that seems to do just fine on the street.
The TT250 doesn't wander or shake its head on the pavement and direction change inputs work as expected.
So street handling overall is about average compared to the light dual-sport crowd. It just works.
Once underway, the engine is adequate for my weight. With my 190 lbs. or so (probably 200 lbs. fully dressed), combined with the 300+ lb. weight of the TT250, the 16 horsepower engine has its work cut out for it.
But this is less of an issue for Carmen, as she weighs considerably less and she is the primary rider.
Acceleration isn't a strong point here and that's good, as the brakes are just "OK" at best. They're not what I would characterize as "bad", but the front brake could have a better initial bite.
The rear does a better job as far as feel goes and it is easier to put more pressure there due to the lever being under the foot.
When I rode the bike home from the previous owner's house, I noticed that the front brake lever was pulsing strongly as I applied it.
But with only 105 miles on the bike I find it hard to believe that the rotor could have become warped due to over-heating or some other kind of abuse.
I was going to go through the warranty process with CSC but since a new rotor cost only $39.95, I figured it wasn't worth the shipping charges each way to get the part under warranty.
The new rotor took care of the pulsing issue but reduced braking feel a bit as the new surface and pads bedded in.
It has improved some since the replacement but it doesn't feel as powerful by any stretch.
I will say I was surprised to see steel braided brake lines front and rear which is nice touch. As mediocre as the brake lever feel is I can only imagine what rubber lines might have felt like.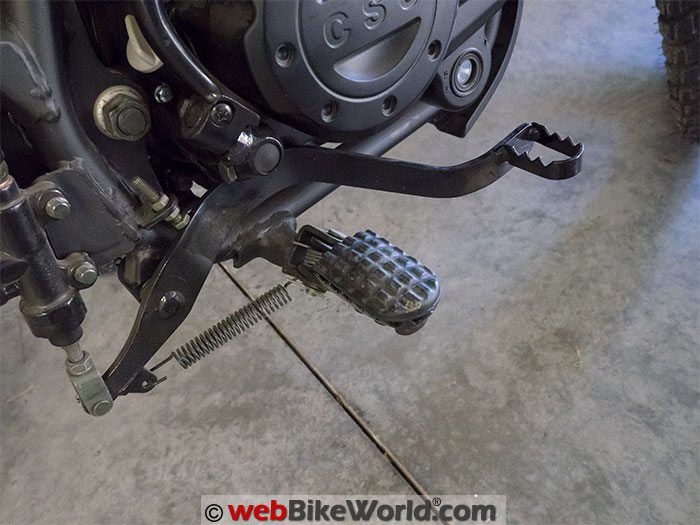 CSC TT250 seat.
Preliminary Conclusion
I think Carmen and I got exactly what we were looking for with the CSC TT250.
It's an inexpensive dual-sport bike that's good at running around neighborhoods, rural back country roads and the occasional stretch of unpaved trail.
I feel the TT250 is a good choice for anyone who likes to work on their own motorcycle and doesn't mind some of the quirks that are part and parcel of an inexpensive machine like the TT250.
We did try to find a used major brand 250 cc dual-sport motorcycle but for the price we paid here, there wasn't much available that ticked all of our boxes.
Build quality of the TT250 is mostly good and CSC seems to take care to make sure fasteners are tight and good oil is in the engine, something that I understand isn't always the case when purchasing Chinese sourced bikes through other channels.
Evidence of the factory quality control issues are still evident, however, if you look closely enough.
While the paint and finish on the tank look very good, the plastic fork leg covers are definitely a step down in fit and finish, with poorly finished edges.
For just under $2,200.00 (USD), you're getting a serviceable machine that has been inspected and upgraded by a company that is willing to stand behind it.
They have been very quick to respond to phone and email inquiries when I have reached out to them.
That last point is probably what makes the TT250 a very good value and the customer service offered by CSC is worth the premium their bikes cost over the other Chinese motorcycles or scooters available today.
Note: For informational use only. All material and photographs are Copyright © webWorld International, LLC since 2000. All rights reserved. See the webBikeWorld® Site Info page. Product specifications, features and details may change or differ from our descriptions. Always check before purchasing. Read the Terms and Conditions!
["Source-webbikeworld"]