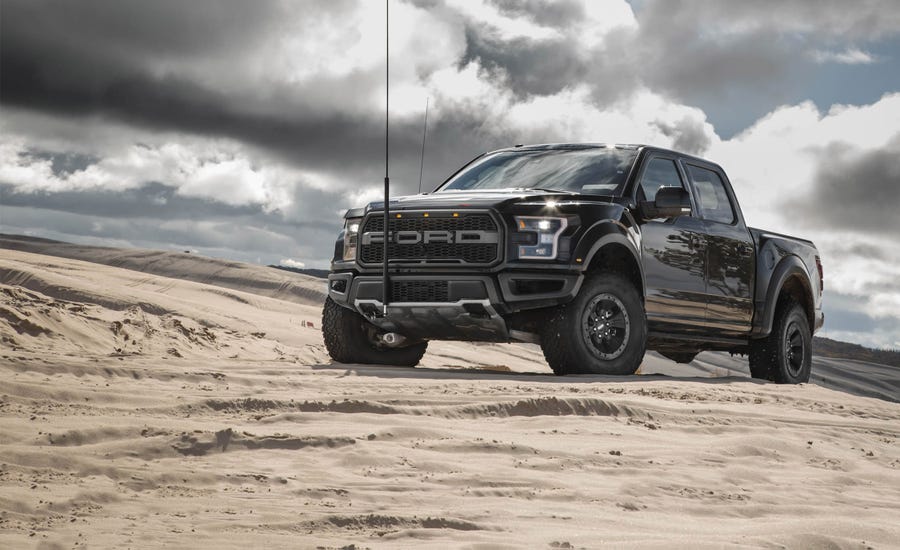 Overall Rating:

The Raptor is unlike any production pickup on the road. Ford fit the regular F-150 with advanced off-road equipment and widened its aluminum body for a purposeful appearance. A 450-hp twin-turbocharged V-6 is sheathed beneath its skin. Operate its paddle-shifted 10-speed automatic properly and its sophisticated drivetrain will rocket the Raptor to 60 mph in 5.1 seconds. Its oversize dimensions make tight spaces treacherous, but an astonishing suspension and comfy cabin mean no territory is untamable and no trip is uncomfortable. Compared with conventional pickups, the Raptor is on another level—providing pure, dumb fun like no other. Spare no expense.
What's New for 2018?
While the regular F-150 received significant updates for 2018, its alter ego, the Raptor, is mostly the same. The short list of changes includes a revised tailgate design (depending on package, "F-150" or "FORD" is stamped into the surface) and restyled taillights. There are also three new colors: Lead Foot, Guard, and Race Red. These replace Ruby Red and Avalanche for 2018. A new 10-speaker Bang & Olufsen stereo is now optional instead of the Sony audio system that was available on 2017 models.
What Was New for 2017?
All new in 2017, the Raptor is based on the current Ford F-150, but the dedicated off-roader is 6.4 inches wider and flaunts unique styling and exclusive equipment. The first-gen Raptor was last sold in 2014—and with a V-8. Along with an aluminum bed and body, the new Raptor has a twin-turbo V-6 and a 10-speed automatic. That makes this version more powerful and up to 500 pounds lighter compared with its predecessor. Its Fox dampers are now larger and help add two inches of height. A set of gnarly BFGoodrich knobby tires, adjustable steering settings, and an advanced all-wheel-drive system with individual terrain modes fill out the updated dossier.
Trims and Options We'd Choose
The Raptor doesn't make sense for everyone; there's the excellent Ford F-150 for those who never leave the tarmac. The Raptor can be too cumbersome in traffic-packed cities and requires patience when parking. The cheapest Raptor costs $51,080, which is $520 more than in 2017. That's about $7500 more than a comparable 2018 F-150 XLT SuperCab 4×4 with the FX4 Off-Road package. Still, we prefer the more expensive Raptor for the enjoyment value alone. We'd opt for the spacious SuperCrew cab for an extra $2985 and the 801A package ($3280), which adds upgraded infotainment, interior features, and more, including:
• 8.0-inch Sync 3 touchscreen with Apple CarPlay and Android Auto
• Heated 10-way power-adjustable front seats
• Leather-trimmed interior
We'd also choose the spray-in bedliner ($495) and the 4.10 Torsen front differential ($500) for improved trailblazing, and we'd splurge on the awesome panoramic sunroof ($1295). That brings the price to $59,635—money well spent in our book.
["Source-caranddriver"]